The Bottineau Jig Project is a look into the lives of the mixed blood families of early Minnesota- 1840s. These were people courageous enough to blend their lives with others whose heritage was radically different from their own. Their stories are mostly unknown, as they were not the ones left holding the power in their hands. Our goal in this project is to research and to share these unusual stories. It is a project of tolerance and shared community. The characters include:
Pierre Bottineau and wife Genevieve- Metis or French-Indian.
Marguerite Bonga, African Ojibwe.
Jacob Fahlstrom – first Swede in our state, was adopted by Ojibwe family.
Helen Sibley, Dakota-Anglo daughter of Henry Sibley.
Little Crow, Dakota leader
Henry Sibley, Yankee fur trader and then governor
Bottineau Jig Project events:
Two evening shows of Bottineau Jig: Untold Tales of Early MN– April 1 and 2, 7:30 pm Intermedia Arts Theater, Mpls. (see home page).
School matinee for Fifth Graders.
Two dance workshops on Metis and French-Canadian step dance- 3/12 and 3/26 (see earlier post) 1 pm-2:30, Tapestry Folkdance.
School workshops to prepare student audiences.
This Blog, which will describe each of these unique real characters from a time of tolerance in Minnesota's past.
Forming partnerships with modern community groups who carry the ethnic heritage of these characters:
American Swedish Institute
Mn African American Museum
Alliance Francaise
Mendota Mdwakanton Dakota
IFMidwest and AFRAN
La Compagnie
MN Am. Assoc. of Teachers of French
Tapestry Folkdance Center
Sisters of St. Joseph- Wisdom Ways
And several historical societies:
Hennepin History Museum
Brooklyn Historical Society
MN Living History Society
Linden Hills History Study Group
Dance Revels Moving History wants to thank our partner organizations.  Working with some of these groups has been as interesting as learning about the original historic characters!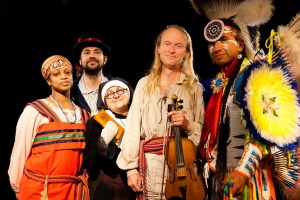 I will tell some of these stories in future blog posts.