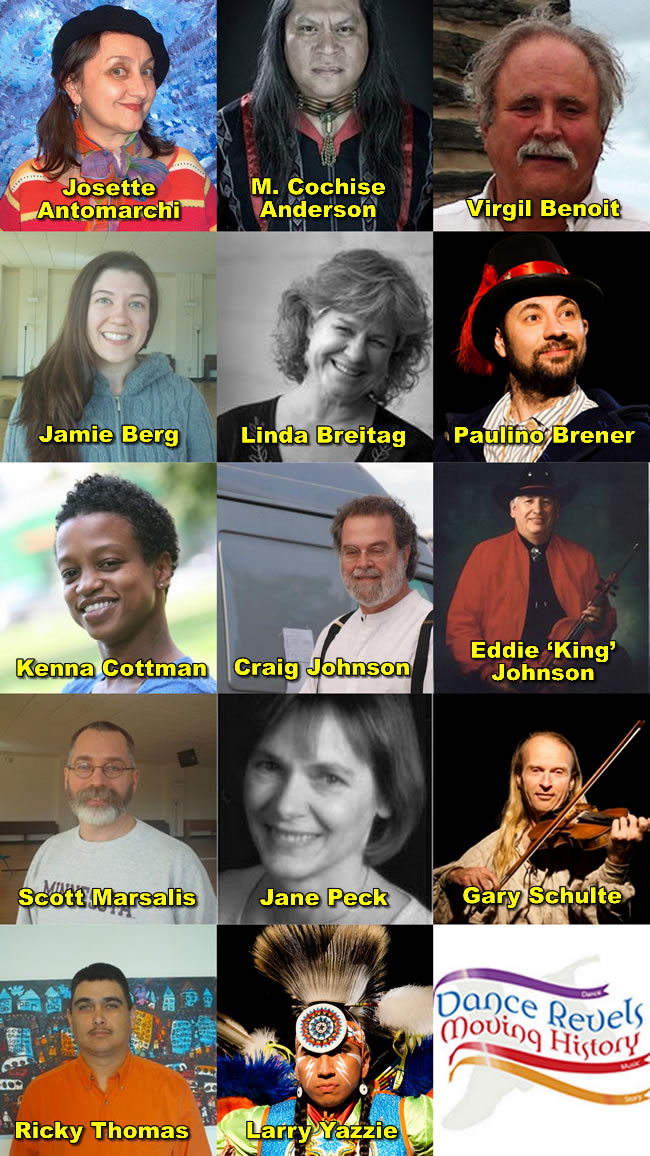 M. Cochise Anderson (Little Crow): musician, actor, poet, spoken word performance artist, playwright, storyteller, and educator – studied at Portland (OR) State University and at The American Musical and Dramatic Academy in NYC.
Josette Antomarchi (Sister Philomene): Actress   is a French native. She studied theater and commedia dell'arte  with Jacques Lecoq in Paris, and performed for years with Theatre du Soleil of Paris. She was a founding member of Theatre de la Jeune Lune in Minneapolis, and  five year member of  Children's Theater Company and Illusion Theater.
Virgil Benoit (Pierre Bottineau –Narrator-): A resident of Red Lake Falls, MN and  professor of French at University of North Dakota, Grand Forks, has spent years preserving and promoting French heritage in the Midwest. Benoit, is the founder of  the Association of the French of the North, committed to the celebration and promotion of French and Metis culture.Virgil is an authority on Pierre  Bottineau.
Jamie Berg (Genevieve Bottienau)  is a Scottish dancer and teacher who also dances modern, ballet, folk dance, tap, and clogging.  Jamie was recently in The Selkie for the MN Fringe Festival and competed in Boston and England with the Duck or Grouse Rapper Sword Team.  When not dancing or coaching gymnastics, she practices her fiddle and flute, and travels in search of teaching, learning, and performing opportunities.
Paulino Brener (Pierre Bottineau dancer),  Assistant manager. : Educator and performer from Argentina. He loves ethnic dances, languages and cultures.More info at www.paulinobrener.com
Kenna-Camara Cottman (Red Blanket woman, PB's mother, Marguerite Bonga Fahlstrom): is the director of Voice of Cultture Drum and Dance. She teaches The Journey Through Black Dance at schools throughout the state. Kenna performs with Ananya Dance Theater and April Sellers Dance. www.salon1016.org
Craig Johnson (PB's father, Jacob Fahlstrom): Twenty one years as a member of the Wild Goose Chase Cloggers with appearances throughout the Midwest, Canada, and Europe.  Member of the Northstar Nordic Dancers, The American Swedish Institute Folkdancers, and formerly a member of the Norskefolkdanslaget.
Scott Marsalis (Henry Sibley): Scott has studied a variety of dance forms, but has focused on Scottish step and country dancing.  He is the Tommy for Duck or Grouse English Rapper team and last summer played Ian in The Selkie at the Minnesota Fringe Festival.
Jane Peck (Sarah Sibley)   Jane finds that dance history enables her to combine her love of history with her love of dance. Jane's own Yankee ancestors arrived in Southern Minnesota shortly after the Dakota land treaty was signed, and had many friendly encounters with the Ho-Chunk tribes. She is trained in  many eras of dance history, modern dance, and many styles of folk and social dance.  Jane has been founder and director of Dance Revels Moving History since 1990, and taught school residencies in movement and the curriculum since 1990. She has been an adjunct professor in several colleges and several departments. Jane also loves performing baroque dance; the dances of Bach and Handel.
Ricky Thomas (Metis dancer): is from the Turtle Mountain Ojibwe Reservation of North Dakota. He has been jigging for much of his life, performing in Canada, the US , and at the International Peace Gardens. Ricky has won jigging contests in both countries, and he and Eddie King Johnson have performed together many times.
Larry Yazzie (Native Dancer) Two-time World Champion Fancy Dancer and member of The Sac & Fox Tribe of the Mississippi in Iowa/Meskwaki. Larry Yazzie is the founder and Artistic Director for Native Pride Arts. Larry has performed all over the world and won many awards for his dancing. As an international lecturer, dancer, and educator, he has earned the reputation for being one of the nation's leading experts on Native American dance. For more information visit  website www.nativepridearts.org
Gary Schulte (fiddler) : from Minneapolis,   is known for his improvisational solo violin work with Parisota and Twin Cities Hot Club, Axis Mundi, Ancestor Energy, Ballet of the Dolls, Theatre de la Jeune Lune, Dance Revels Moving History, and many folk and ethnic dance ensembles in the Twin Cities.  He has appeared on A Prairie Home Companion, and in concert at Walker Art Center
Linda Breitag (singer) :  is a singer/songwriter, fiddler, visual artist, and folklorist with an M.A. in ethnomusicology. Her musical past runs the gamut from the St. Olaf Choir to a Cajun/Zydeco band based in Quebec City.   She was named a Master Fiddler by the Minnesota State Arts Board, and has a CD a called Feet to the Fire, featuring fiddle tunes and original songs.
Eddie 'King' Johnson –(Fiddler) from Turtle Mt. Reservation, ND. was raised on the Metis music and dance of the reser­vation. Across the nation people have loved his traditional Metis country music since the 1950's, as he toured his band the Country Knights. He is an elder, but still a lively entertainer.